The carbon footprint is a concept associated with the use of fossil derivatives, such as fuel burning by engines, whether for locomotion or for industrial production. In reality, all human activity leaves footprints in the environment. Including digital activity.
Designed to contribute to neutralizing CO2 emissions, an innovative project was born in Brazil, aimed at offsetting the carbon footprint resulting from digital marketing campaigns. A partnership between HYPR, a technology startup applied to marketing, and Moss, a climatetech that develops projects in the Amazon, has enabled the development of a model to calculate and neutralize CO2 emissions from digital advertising.
The first offsetting of the carbon footprint on this model has already been carried out by one of HYPR's clients: L'Oréal, which neutralized the emissions involved in Giorgio Armani's My Way Intense campaign. The perfume is the group's first launch with a commitment. In addition, the group intends to use 100% renewable energy in its processes by 2025. A commitment between brands and agencies.
For the founder and CEO of Moss, Luis Adaime, HYPR's proposal is important because it provokes debate and the mobilization of clients and digital advertising agencies to look at their own carbon footprint and make their contribution.
"Digital advertising, like any human activity, generates unwanted effects on the environment, but until now they drew little attention, which is starting to change", comments climatetech's CEO, adding that the internet uses a lot of energy and, therefore, has a non-negligible carbon footprint.
What is the carbon footprint of digital advertising?
"Emissions from digital advertising alone worldwide are 100 times greater than the carbon footprint of the American exchange, the NYSE, which operates entirely in the virtual environment", adds the executive. Currently, the NYSE processes between 3 billion and 6 billion transactions a day.
How to offset CO2 emissions?
The methodology that calculates the greenhouse gas emissions of the advertisers' digital marketing plan and points out the volume needed to neutralize carbon is the responsibility of HYPR. With the data in hand, companies can offset CO2 emissions based on the purchase of blockchain carbon credits, such as Moss' MCO2. Each carbon credit represents 1 ton of CO2 whose emission was avoided.
Since March last year, climatetech has transacted more than BRL 150 million that helped conserve approximately 152 million trees in the Amazon in internationally certified and audited projects. HYPR director César Moura is optimistic about the initiative – and is making plans. "Generation Z, for example, represents 20% of the population and is more attentive to communications related to sustainability issues. This sensitivity reflects how much they are willing to pay for products and services, and can vary by more than 10% between different generations. It is an opportunity for advertisers to understand the different needs of their consumers and their specificities, delivering relevant and purposeful experiences for each audience."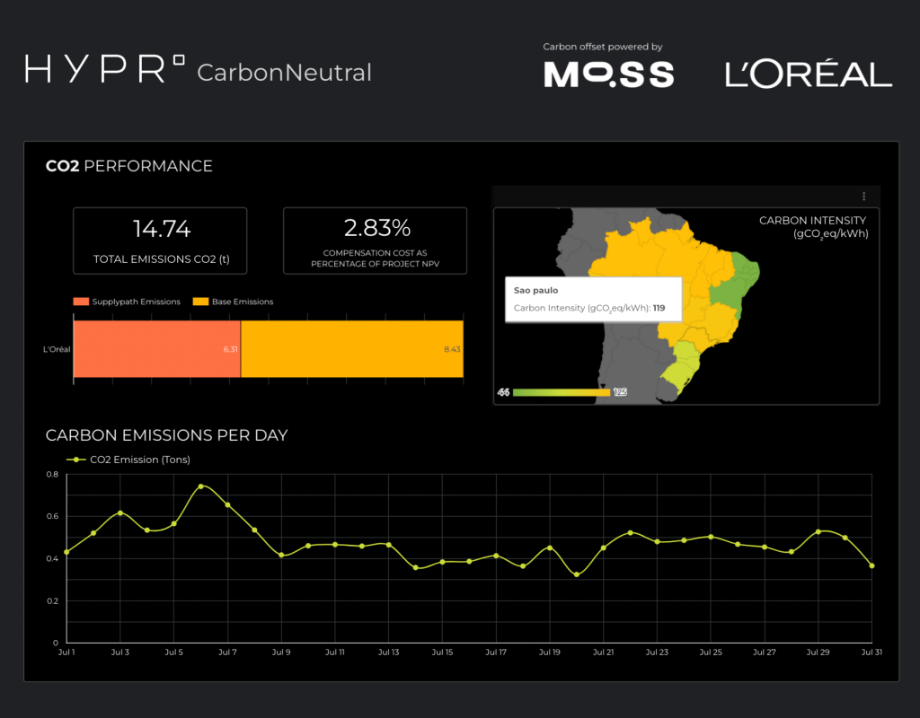 For more information: https://exame.com/negocios/campanhas-digitais-pegada-carbono-possivel